To stay private, can be an ezperience in itself, and it can be a cheaper kind of accommodation. All of the hosts tries their best to make your stay special. The host makes a room or an apartment available for you. The host wants to help you find the experiences that is an absolut MUST for you during your stay.
Ledgaard Landboturisme
Stabyvej 76, Husby
6990 Ulfborg
Sidsel: 97 49 54 23
E-mail:postmaster@led-gaard.dk
http://led-gaard.dk/
We offers both farmstays, short stays, longer holidays, family reunions and events for everybody all year. At our place, you have the opportunity to live idyllically on a nice farm, either in an appartment or in a room. At the farm there are lots of activities for all ages. On Ledgaard you can clap goats, tide horses, drive in a tractor, build caves, play crocket, golf, pool, tabletennis or petanque, gokart, fishing, relaks in a wilderness bath and much more.
Fjand Camping & Grill
Klitvej 16, Sdr. Nissum
6990 Ulfborg
Phone: 97 49 60 11
Fax:97 49 62 12
E-mail: fjand@dk-camp.dk
www.dk-camp.dk

Bed & Breakfast: At 1st floor in our beautiful main building, do we have 6 dubble rooms for rental.
Singleroom: kr. 350,00
Doubleroom: kr. 400,00
The price is including linen and towels.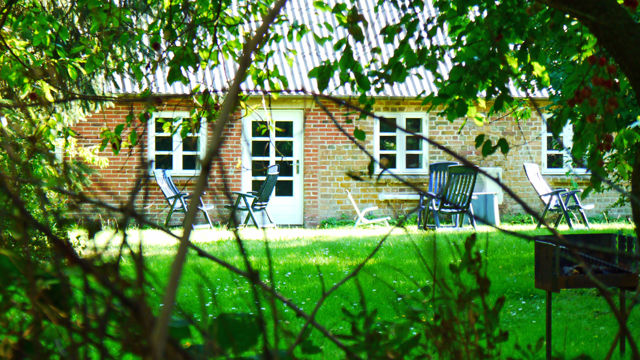 Folkeuniversitetscenteret Skærum Mølle
Skærum Møllevej 2-4
7570 Vemb
Phone: 97 48 13 22
E-mail: kontor@folkeuniversitetscenteret.dk
www.skaerum.dk
There are nice rooms, mostly with own toilet and bath. Furthermore, it is possible to accommodate 2 separate detached houses with a total of 8 double rooms. The center is only 1 km from Vemb city and only a few hundred meters from Storåen with good angling opportunities.
Klithedegården
Klithedegården v. Suzi Elena Apelgren
Græmvej 41
6990 Ulfborg
Phone. 30693975
E-mail: kontakt@klithedegården.dk
www.klithedegaarden.dk
Klithedegården is renovated and designed with respect for the soul of the yard. We have 6 rooms, which can be rentet as double or single-rooms. There are a shared bathroom between two rooms. acces to a kitchen, shared room and a garden with grill. Tv and wifi. Our prices are incl. delicious breakfast, linen, towels, cleaning and consumption. Your hosts are familiar with the area, andt are happy to give advices and instructions.
Dogs and horses are welcome.